SERVICES AND INFO
OUR SERVICES
Access to either bedrooms, main door or the gates is made available by means of just one electronic key.
Private parking is free of charge.
Wi-fi connection is provided everywhere, including the swimming pool area.
A tasty but healthy breakfast is served by the hosts either in the specially prepared dining area or outdoors from 7.30 to 10.30 am.
Breakfast includes: freshly baked croissants, homemade cakes, yoghurt, cereal, tea, coffee, milk, a selection of jams and many other delicacies.
Pets are not accepted.
A FEW TIPS ABOUT HOW TO SPEND YOUR HOLIDAY
Thanks to its location, there are several opportunities to pick from in order to spend a pleasant stay at Giardino sul mare: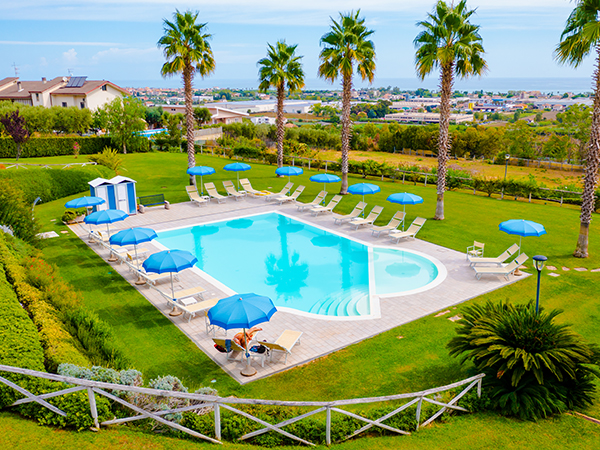 Taking a relaxing break by the pool, surrounded by the peaceful, green countryside.
Driving to an Benedetto del Tronto, Martisicuro and Alba Adriatica resorts, all of which are within easy reach, and choose either a public or a fully equipped private beach, going for a crowded or a wild area(like the so called "dunes").
The "Onda Blu" Aquapark in Tortoreto Lido, just 6 km off , is the destination recommended to those looking for thrilling emotions.
Besides all that, guests can go in for sports fishing to nearby small lakes, horse-riding or playing golf, all of which are within easy reach.
Bike Service
The B&B Giardino Sul Mare is the ideal place for nature lovers and bike excursions.
We offer our guests an exclusive Bike Room service, where you can store your bicycle in complete safety and where you can carry out repairs thanks to a small equipped workshop.
Whether it's an outdoor adventure or a relaxing walk along the coast, the privileged position of the B&B Giardino Sul Mare will allow you to fully enjoy the beauty of nature and the breathtaking views that the coast offers. Furthermore, our staff will provide you with all the information and advice for routes around the B&B.